Sony Ericsson X2 photographed?
This article contains unofficial information.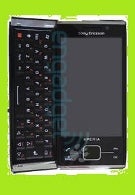 Engadget Mobile received a snapshot from a tipster that is supposed to be a spyshot of the Sony Ericsson X2. With the Windows "Start" key in the upper left of the keyboard, we probably wouldn't be off the mark to say that the device will once again be using the Windows Mobile OS, the only phone in the Sony Ericsson stable that uses that operating system. Also noteworthy on the picture is the X panel button situated on the lower left of the front of the phone, which tells us that the panel UI will get another shot at the big time. No hint as to a launch date or even if this device will be sold subsidized through a carrier, like the original model was overseas, or sold unlocked like the X1 was in the States.
source:
EngadgetMobile