Some iPhone 4 pre-orders get randomly canceled while White version suffers delay
This article contains unofficial information.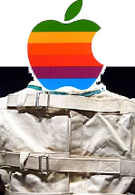 Imagine having spent hours trying to pre-order a new iPhone 4 online from the Apple Store, dealing with the ancient 486 chip on your PC, having to put up with balky Apple servers, finally getting a confirmation in your e-mail-and then finding out that your order was canceled for no reason. One person on the MacRumors forum says, "I ordered one 32GB for my line and my wife got a 16GB on the 15th. Both from Apple. Both were successful with order acknowledgments and temporary holds on the card. Today the 16GB order shows cancelled. No email, no call, nothing, just a cancellation on the order status page." Others have found reasons why their order was erased, ranging from a past-due balance owed AT&T that was not paid yet (apparently Apple and AT&T cross-reference billing matters), to a family plan pre-order that requires the new iPhone 4 to be reserved in person at an AT&T store. Some failed to click the "Terms and Conditions" button on the web site when pre-ordering and will have to wait for a second e-mail that will give you the option to check off the box, agreeing to the "T&C". If any of you have had your iPhone 4 pre-order canceled for no reason, pass along your experience below in the comments section.
As for the currently un-available White version of the iPhone 4, reportedly Best Buy accepted some orders for the Ivory-colored model on Tuesday, June 15th despite the fact that no other location took any orders for it. One customer of the big box electronics retailer was told that his pre-order for a White iPhone 4 was canceled because the retailer could not fulfill his order for the White version of Apple's touchscreen phone. According to the Best Buy rep, it is a manufacturing issue that is keeping the White iPhone 4 grounded. And the poor customer is left with no iPhone reserved for him, Black or White.
Apple iPhone 4 Specifications
source:
MacRumors