Issue with iOS 12 has messages being merged accidentally and received by unintended recipients
32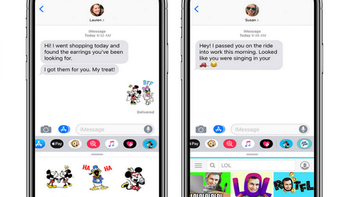 Over the weekend, we told you about a passcode glitch in iOS 12 that could allow an attacker to
break into a locked iPhone and look at a user's contacts and photos
. Now, a new and potentially embarrassing bug has been discovered that can send your messages and texts to unintended recipients. For example, you might send an explicit text to a sibling only to have the message sent to your mother instead.
The bug is the result of some work Apple did quietly behind the scenes to improve the iMessages experience on iOS 12. The idea was to create a single unified thread for contacts who use multiple numbers and email addresses. While a great idea in theory, the way that Apple went ahead to put the new feature in place has created havoc among some iOS users. According to those who have complained on Apple's Communities Forum, messages being sent to those in a combined thread are being received only by the person in that thread who last left the sender a message. And when a message is sent to the intended recipient, it shows up in the combined thread. Either way, a message could be received by someone it wasn't intended for. A number of complaints have been posted on Apple's Communities Forum.
Part of the problem has to do with linked Apple IDs. One iOS 12 user posted a workaround that appears to work. Go to
Settings
>
Messages
>
Send and Receive
. Touch on Apple ID and sign out of Apple ID for messages. This will force all devices using the same Apple ID to use their phone numbers for messaging instead of the shared Apple ID. Finally, delete all threads where the messages merged.
If you are experiencing this issue, hopefully signing out of Apple ID for messages will end the problem. Others in the forum have called this a workaround, and are still imploring Apple to come up with a fix of its own.
"We are experiencing this problem with our family of four who share the same Apple ID, and I can't even text my husband independently right now, or vice versa. This is our primary way of communicating all the time. Our two kids now see all four family member's messaging history on their phones because it has all merged into one. What's really bizarre is I will put my husband's phone number into the text message and type a test message, I will send it and it will say it went to my daughter who has an entirely different phone number. This is really messed up. This is not good and could cause a member of the family to read something not intended for them. I do hope Apple realizes how serious and problematic this situation is and fixes it asap."-vdewitt, member, Apple Communities
Recommended Stories