Slyde Floating App Switcher for Android makes one-handed operation easier
11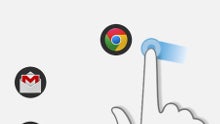 Slyde is a new entrant in the ever-growing floating apps category of the Android platform that strives to take advantage of the big smartphone screens that are flooding the market lately. Those apps hover on top of anything else you are doing underneath, usually aiming to ease multitasking and one-handed operation.
The Slyde app in particular is a simple task switcher, presenting in the form of a floating bubble that hovers on top of any screen you are currently looking at. It is small and transparent, so it doesn't get much in the way, and can be moved around as needed, or minimized to the status bar with double tap for when you are watching a video, for instance.
The app lets you switch to five of your most used apps in a second by simply touching the Slyde bubble at the edge of the screen, and then sliding your finger to the five apps that appear in circles around it. It's faster and easier than having to constantly go to the app drawer or task switcher. Slyde costs $0.99, and doesn't require that your phone be rooted.