Slingbox debuts two new boxes that stream to your mobile device
3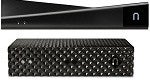 Slingbox has not had too many updates as of late, but today the company introduced the all new Slingbox 350 and Slingbox 500 which will deliver the full functionality of your TV experience at home to your remote device, be it a tablet, smartphone or computer.
The Slingbox 350 is designed to bring HD quality to your remote devices which can control your TV and DVR via SlingPlayer software. At $179, the 350 simply by connects to your DVR or set-top box via common sources, and then to your router via Ethernet cable to deliver full 1080p HD video.
The 350's bigger brother, the Slingbox 500, which will be available for $299, has everything the 350 has, plus HDMI in and out, Wi-Fi connectivity, and allows for viewing of personal media on the TV. It also comes with its own remote control and dedicated TV interface.
The software used on the mobile devices must also be purchased and is currently on sale for $14.99 per device. Probably the best part about the new Slingbox devices and the SlingPlayer software is that it supports iOS, Android, Kindle Fire and Windows Phone. While there are a lot of ways to get online content to your devices, Slingbox keeps you connected to things you like to watch at home.
The new Slingbox 350 and 500 will be available on October 14th.
source:
Sling Media