Should more manufacturers follow Samsung with lower resolution cameras but larger pixels and lens?
99+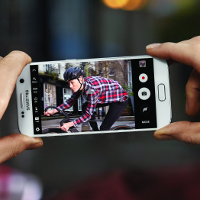 For years now, Android manufacturers have been embroiled in a game of numbers. With so many competitors, each consecutive upgrade had to bring more to the table. So a bigger screen with more pixels in it. A larger battery with more capacity. A quicker processor with more cores, and more RAM to handle your day-to-day task. And the camera... oh, the camera! More megapixels or get out.
With the above in mind, it was kind of shocking to see Samsung—the de facto master of the numbers game—betray that tradition. Indeed, with the Galaxy S7, the camera
lost
resolution, not gain. So instead of the 16-megapixel of its predecessor, we now have a 12-megapixel unit on imaging duty with the new flagship. And while that's surprising, it actually makes a whole lot of sense in theory. Fewer pixels means larger pixels given an identical camera sensor size, and on paper, that ought to yield better light sensitivity. Better light sensitivity means better low light photography and better overall color accuracy, at least in general.
Samsung didn't stop there, though, and also used extremely wide,
f
/1.7 lens—the largest in the industry by far. That should further help with low light photography, and we're definitely curious to see how the new setup holds up against the competition once the lights go out. Until we get around to staging that comparison, however, we're left with just the theory of it all, and we're curious to hear your take on the transition. So what do you say, is it solid thinking on Samsung's part? Moreover, should other manufacturers follow?