Shadowgun: DeadZone released as a public beta in the Play Store, final release coming in a few weeks
9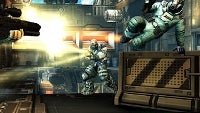 MadFinger Games are doing an interesting experiment by releasing a public beta for their Shadowgun: Deadzone at the Google Play Store. This one has been prepped for over a year now, so it is definitely worth a ride, being one of the best FPS franchises for mobile out there.
There is deathmatch mode and the one called "zone control", and the game designers offer you four characters, two maps, seven weapons, and eight contraptions to arm yourself with. Deadzone is optimized for NVIDIA chips, so it is available at Tegra Zone for folks with Tegra 3 devices, and it works on gear like the Nexus 7, HTC One X, and Transformer Prime. Marek Rabas, Madfinger CEO, explained why only Tegra 3 gear is supported for now:
With the Beta Test we wanted to achieve results that could best help us. By working closely with the NVIDIA team and the Tegra 3 technology itself, we are able to Beta test Shadowgun: Deadzone very efficiently which will help us provide an amazing gaming experience at launch...
Please understand that as this is a Beta Version, there are a lot of missing features and content. The purpose of the Beta Version is to polish network code and the basic gameplay experience, as well as to resolve bugs. Also, please note that we are operating on a limited number of servers at the moment, so please don't get upset if you experience a short wait.

The developer, of course, promises that the public beta will be much improved for the final release, which should be released a few weeks from now for Android and iOS.