See how Sony has been 'hiding' the Honami and the Z Ultra from prying eyes with the use of a masking shell
25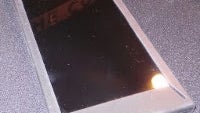 Turns out that
Samsung isn't the only 'ingenious' enough manufacturer
to figure out that a good way to avoid leaks would be to mask upcoming devices in an external shell. As it happens, Japanese Sony has been employing similar tactics, although how effective they turn out to be remains to be seen, given that
we've seen plenty of the Sony Honami already
, or so we think.
This whole story broke after developer Adam Outler posted a since removed photo of what he claimed to be an "unannounced Sony device", likely the
Sony i1 Honami
. Such a timely removal of the photo off his Google+ profile has sure got us wondering whether what we saw is actually the real deal. The story certainly seems plausible, for a second photo of what looks like the Sony Xperia Z Ultra hidden underneath a similar encasing has been provided by the folks behind the XPERIA Blog.
Regardless of whether the above is the case (it probably is), it shouldn't be too long until we see for ourselves – if rumors are to be trusted, Sony's new flagship, the Honami, is
to be announced on September 4
.
via:
XPERIABlog