Samsung's Gear S3 will officially be up for pre-order in the US on November 6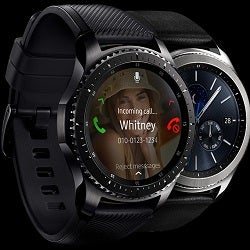 Samsung's
Gear S3
is easily one of the most anticipated smartwatches of the year, but up until now, its availability int the US has been a bit confusing. The watch officially went up for
pre-order in the UK
back on October 29, and although it made an
apperance on Best Buy's site
on November 2, you couldn't actually buy it. However, thanks to an official announcement from Samsung, we now have official word on the Gear S3's availability in the United States.
Both the Gear S3 Classic and Frontier will finally be available for pre-order in the US starting on November 6, and both watches will sell for $349.99. The watch will exit the pre-order stage on November 18, and it will be available to buy from Amazon, Best Buy, Samsung's own site, and Macy's. You'll also be able to purchase the LTE version of the Gear S3 on AT&T, T-Mobile, and Verizon, but we've yet to get word as to how much the watch will cost when purcahsed through one of them. Also worth noting here is the fact that only the Frontier version of the Gear S3 will come equipped with LTE support.
I used to own the Gear S2, and I enjoyed my time with that watch much more than I thought I would. The Gear S3 looks to improve on just about everything the Gear S2 brought to the table, including the return of the rotating bezel, Samsung's own Tizen OS, and the use of a standard 22mm watch band. Plus, with new additions such as Samsung Pay, the Gear S3 has a few tricks up its sleeve that could really set it apart from the rest of the smartwatch competition that currently exists.
There's no doubt at all that the Gear S3 looks like a very promising product, but with competitors like the impressive
Asus ZenWatch 3
that sells for just $229, it's going to have to prove to the world that it's worth its heftier price tag.