Samsung's ChatON messenger is now available on iOS
7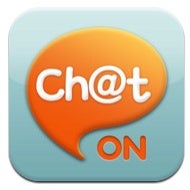 iOS has iMessage which is a pretty good free messaging service if you overlook one fact - it's iOS-only. And while there are plenty of other options for cross-platform free message exchange,
Samsung's ChatON
is one of the more popular ones as it comes from the world's biggest smartphone maker (hence it lands on more devices), is easy to use and arrives in different OS flavors. Now, it has hit the App Store and it's free and compatible with devices running on iOS 4.2 and up.
With ChatON users can have private conversations, group chats and also share photos, videos, voice messages and contacts. All messages are sent for free not counting the data you're using, and the app itself is free so it wouldn't hurt trying it, would it?