Samsung uses "The tablet Apple tried to stop" ad for marketing the Galaxy Tab 10.1 in Australia
21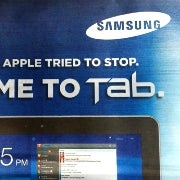 Things are getting from dreary to funny in the ongoing lawsuits between Apple and Samsung really quickly these days - what every soap opera worth its salt should strive for.
After having the sales ban on the
Samsung Galaxy Tab 10.1
lifted in Australia until the trial verdict, the Koreans immediately announced the launch of the device Down Under, and resumed its marketing campaign, saying that
the whole drama popularized the slate
better than their PR department could have done.
The newspaper ads for the Samsung Galaxy Tab 10.1 now reads "
The tablet Apple tried to stop
", which is the kind of in-your-face marketing that Samsung has probably been itching to do ever since the lawsuits started. We'll see how many slates Samsung will sell Down Under, considering that retailers found ways to circumvent the ban even before the latest ruling.