Samsung to sell $1 billion in bonds for expansion of its Austin, Texas foundry, will invest $42 billion globally
5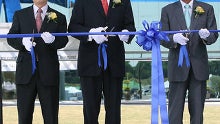 Samsung Group is preparing for a massive $42 billion expansion and hiring 26 000 additional people globally in 2012. The Korean conglomerate is rumored to bet heavily on mobile chipsets and OLED displays research and production with this money.
About $1 billion will go to
Samsung's huge memory and mobile chips facility in Austin, Texas
, which makes silicon for Apple and others. The $1 billion will be obtained by
selling bonds
, guaranteed by Samsung's USA unit, the first such debt financing in a decade, which only makes sense, considering the current low interest rates.
The hiring spree will bring Samsung Group's employees to over 375 000 globally, and the record $42 billion investment will go into anything from research to mergers and acquisitions. Capital spending alone is expected to be $21.8 billion, with 80% of those going into the production of chips and OLED display panels.
Lee Sun-tae, an analyst at NH Investment & Securities had the following to say about the investment spending binge this year: "
Samsung's got strong cash flow to make bold bets in new technologies. No other IT company can beat it in terms of investment and that's how Samsung finds new revenue sources ahead of rivals and widens its gap.
"
Analysts also predict that for the first time Samsung's investment in mobile chipset research, like the one that goes into its Exynos family of processors for smartphones and tablets, will exceed the investment in memory technologies.
It's nice to see a company going on a hiring spree amidst a global downturn, coming in stark contrast with most of its peers, which shows that the Koreans are on the right track. And if all that investment spending results in cooler smartphones and tablets this year from Samsung, so be it.
source:
Reuters