Made in USA - Samsung's new Texas foundry to produce Apple's A5 processors, possibly A6 as well
13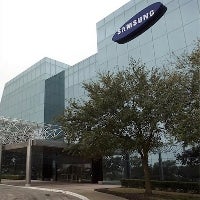 Apple's first dual-core processor, the A5, was designed based on chip architecture supplied by the Brits from ARM Holdings, who hold the lion's share of mobile processor licensees, thanks to their excellent power consumption/performance ratio. The A5 first debuted in the iPad 2 in March, then appeared in the
iPhone 4S
, consistently occupying top places in benchmark rankings.
Up until now it was assumed that, while designed by Apple's engineers, the chip is actually manufactured in Asia by Samsung, but "
people familiar with the operation
" have disclosed for Reuters that
the A5 is actually now made in Samsung's brand spanking new foundry in Austin, Texas
. It's a $3.6 billion endeavor the size of nine football fields, which started full motion in the beginning of this month.
Samsung already had a NAND flash memory factory in Austin, and upgraded it in 2007 for $3.5 billion, but the new addition is for non-memory silicon, like the A5 system-on-a-chip (SoC). The only other such factory of Samsung is on its home turf in South Korea. In addition to the latest $3.6 billion expansion, Samsung said it will have a 50-person team that will work on designing new SoCs to go into smartphones, tablets, digital TV sets, and so on.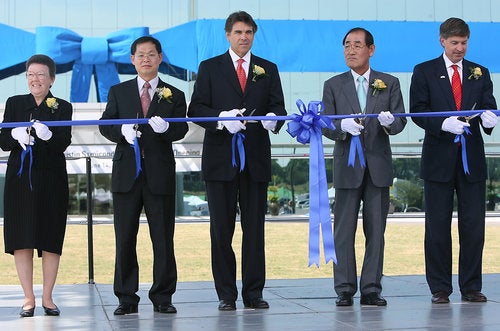 The NAND flash factory, which started in 1996, its expansion in 2007, and the non-memory chips one that just started operation, are the largest foreign investment in Texas, to the tune of $12.6 billion so far, and employ 2400 people, counting on steady supply of engineers from the University of Texas. Let's not forget that the state is also home to Texas Instruments, which is headquartered in Dallas. Government Rick Perry cut the ribbon of the 2007 expansion (pictured on the right), but we wonder if he had time off to do the same now, considering how busy he is with the presidential campaign.
Apple was trying to break away from Samsung for its upcoming A6 chip
, initiating
trial runs with the TSMC foundries
, but these efforts have allegedly ended with
the bulk of the A6 chip production going again to Samsung
, which seems to be the only one with the capacity to produce 28nm chips with enough yield and quality to satisfy Apple's demands. That $3.6 billion investment in Austin only makes sense then, and the marking on Apple's processors might read "Designed in California, made in Texas" starting this month.
source:
Reuters