Samsung to make a 14nm processing chip for Apple's upcoming SoC (the A9), expects big profits
28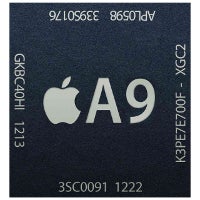 Apple's 20nm A8 chip
that can be found inside both the
Apple iPhone 6
and the
iPhone 6 Plus
is by no means outdated or trailing behind the Qualcomm competition performance-wise, but rumors and speculations about Apple's next chipset, most probably the A9, are already making the rounds.
It looks like the SoC in question will be manufactured by Samsung, Apple's greatest rival, itself and the South Korea giant will be using a 14nm fabrication process under Samsung's three-dimensional FinFet technology, which means that the chipset won't be flat like the regular silicon chipsets. Allegedly, the 14nm process itself will make the Apple A9 35% more energy-efficient, 20% faster, and 15% smaller than the currently existing 20nm chipsets, the Apple A8 and Samsung's Exynos 5 Octa 5433 (found inside certain Galaxy Note 4 variants) among them. This was confirmed by Kim Ki-nam, the head of Samsung's semiconductor business, which also claimed that thanks to this, the company's earnings will increase.
Apple stroke a deal with TSMC for the mass production of the computing chip inside the A8, but Samsung also produced a portion of the iPhone 6-powering chipsets – according to industry source, TSMC accounted for 70% of the whole production, whereas Samsung is responsible for some 30%. Apple is trying hard to move away from Samsung, but the tech giant currently has an enormous advantage over TSMC and the rest of the chipset manufacturers.
While TSMC is allegedly perfectly capable of making a 16nm chip for Apple in 2015, Samsung is said to be pushing the limits even further and being able to produce 14nm chips. Apple is surely having a lot of mixed feelings about its most important business partner and, at the same time, its most potent rival. There is no exact word on when Samsung will employ the 14nm fabrication process in its own Exynos chipsets.
Samsung, on the other hand, has many reasons to be happy – first of all, it is expecting an increased cash flow from Cupertino, and secondly, this will surely help Samsung regain some of its positions in Cupertino, which will further complicate the already- embroiled relations between the two "frienemies".
source:
ZDNet Korea
via
SamMobile