Samsung spits out the Android-powered Galaxy 3 and Galaxy 5
1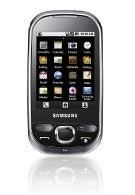 It's been a busy day for Samsung at CommunicAsia 2010 - so many new handsets to announce, so little wow factor. It seems the manufacturer has now decided to assault the mainstream consumer after the high-spec'd Wave and Galaxy S.
Samsung outed the Galaxy 3 and Galaxy 5, continuing its trend to confuse the masses as the number 3 is the better one of the duo. The Galaxy 3 I5800 comes with a
3.2
" capacitive WQVGA display and a 3MP camera with LED flash, while the Galaxy 5 I5500, which we've
already seen as the Corby Smartphone I5500
, regresses things down to 2.8" QVGA screen and 2MP fixed-focus cam without flash.
Both handsets arrive with Android
2.1
onboard, European/Asian 3G, A-GPS, WiFi, TouchWiz 3.0 and 170MB memory. The Samsung Galaxy 3 spices up things a little as it supports Bluetooth 3.0, WiFi n, and its 1500mAh battery is rated for the respectful
7.1
hrs of talk on 3G, and 22 days of standby.
Layar augmented Reality Browser comes preinstalled on both to show you POI info, and the Samsung Social Hub is featured to take care of your social networking cravings. The Galaxy 3 is able to play Divx/Xvid files out of the box, whereas the Galaxy 5 cannot, but it features the Swype virtual keyboard similar to the Galaxy S.
The Samsung Galaxy 3 is coming to Europe and Asia in July, while Galaxy 5 will be hitting Europe, Latin America, China, Australia, SEA, SWA, and EMEA at the same time for prices unknown.
Hit the links below for our fresh previews of the Galaxy 3 and Galaxy 5.
Samsung Galaxy 3 I5800 Specifications
|
Preview
Samsung Galaxy 5 I5500 Specifications
|
Preview
source: Samsung