Samsung shows off SPH-V4400 - 2 megapixels CDMA phone and SPH-V500 - 1.3 megapixel camera phone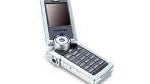 Samsung today announced their newest CDMA2000-1X EVDO phone. The SPH-V4400 features 2 megapixels built-in camera with flash, innovative fully-flexible display design allowing the screen to swivel 180 degrees, capturing images from any angle. The video function allows users to record up to 2 hours of video and view images on the 262k screen. In addition, the phone has built-in MP3 player.
Samsung SPH-V4400 features and specification:

2 megapixel camera
MP3 player
Photo/Video TV output supported
64 polyphonic ringtones
RS (reduced size) MMC memory card
External 262k 128 x 96 display
Internal 262k 176 x 220 display
Video clip recording with audio MPEG4, more then 2 hours
Full specification and features
---
Samsung SCH-V500 was also announced. It is another CDMA phones and features rotating swivel display design, so the users can view the 2.2" wide screen horizontally or in the standard vertical position. The phone also features 1.3 megapixel camera that rotates 180 degrees and MP3 player. The internal display is 262k QVGA TFT LCD display.