Samsung said to be replacing TSMC to produce Apple's next-gen chip
50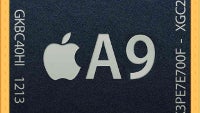 KGI Securities analyst Michael Liu told clients on Wednesday, that Samsung will be replacing TSMC in the production of next-gen 14nm smartphone chips for Apple and Qualcomm. Liu said in his report that Samsung would be taking over in the second half of 2015. The
Commercisal Times
of Korea reported on Thursday, that Qualcomm has already started working with Samsung on the chips, while the
Economic Daily News
reported that Qualcomm has already placed orders with Samsung.
TSMC is the manufacturer behind the chips that Apple is using inside the
Apple iPhone 6
. Those
A-series chips arrived at Apple in the second quarter of this year
, ending Samsung's long arrangement to produce them. In the face of its patent battles with its top rival in the smartphone business, Apple had earlier decided to drop Samsung for the production of the A8 chip, and
replaced the company with TSMC
. The A8 is rumored to be
the first in the series to hit 2GHz in clock speed
.
Amid this speculation that the A9 will be produced by Samsung, TSMC CEO Morris Chang says that his company will bounce back in 2016, hinting that another deal with Apple is in the cards.
source:
Reuters