WSJ: Apple has begun receiving A8 processor shipments from TSMC
27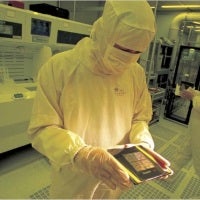 According to the Wall Street Journal, Taiwan Semiconductor Manufacturing Co is already shipping the next generation of A-processors for Apple's upcoming smartphones and tablets. Furthermore, the companies have negotiated working together on additional projects for next year, including 16-nanometer chip manufacturing technology, which TSMC wants to deploy in 2015.
According to the publication, both Apple and TSMC have marked a success with the deal for manufacturing the forward-thinking chips. Working with both TSMC and Samsung means Apple will have more leverage in price negotiations, while the Taiwanese chip-maker receives a high-profile customer that will invest in its research activities and significantly boost its revenue. Analysts say Apple's orders could account for 10% of the manufacturer's 2014 revenue.
Previously,
we reported
that last quarter, TSMC began mass production of the 20-nanometer A8 chip ahead of schedule. Allegedly, hundreds of engineers were dispatched from Taiwan towards Apple's headquarters in Cupertino to ensure the quality of production.
The quantity of shipments hasn't been detailed, but rumors from China and Taiwan swing numbers as high as
68 million iPhone 6 orders
for 2014. This is 17 million more than the 51 million iPhone 5S units Apple sold in the last quarter of 2013 alone. It's not known whether Apple has ordered only 4.7-inch iPhones, or both 4.7-inch and 5.5-inch models. It is certain, however, that the company is preparing to meet another round of high demand for its smartphone.
source:
WSJ