The Apple A8 SoC in the iPhone 6 might hit 2 GHz core clock speeds for the first time
40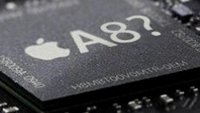 Android's flagships have been breaking the 2 GHz CPU barrier for a while now, but even Apple's most advanced 64-bit A7 chipset is still lounging at the 1.3-1.4 GHz range. This, however, is about to change with the eventual
A8
, if a new supply chain report is to be believed.
Apple's upcoming chipset, that is expected to make a cameo in the
iPhone 6
and the
iPad Air 2
, is said to feature cores with the maximum clock of 2 GHz for the first time in the franchise history. Previously we've heard that Apple's new chipset will
sports cores clocked as high as 2.6 GHz
, but that might be the A8 version for the iPad Air 2, which is always more powerful than the model which goes into Apple's iPhone. The A8 chipset is expected to be 64-bit again (of course), and sports two cores again, while there are a bunch of Android handsets with four, six, and even octa-core silicon. The amount of cores is in no way representative of a chipset's overall speed and productivity, though, so it doesn't serve as more than bragging rights for theoretical mights.
Apple's A8 silicon is
allegedly hammered out by the TSMC foundry
, gradually replacing Samsung as a supplier, and will sport a new 20nm process, which would mean a theoretical increase in performance with a simultaneous decrease in power consumption, compared to the 28nm method that most current chipsets are built with.
Recommended Stories