TSMC is producing the A8 chips for the next iPhone amidst rumors of final Apple-Samsung break-up
28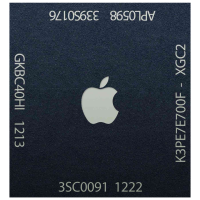 Reports from Taipei claim that TaiwanSemiconductor Manufacturing Co. has started production on A8 chipsetsfor Apple's next iPhone. TSMC, the world's leading contractchip-maker, is now making A8 processors.
According to Taipei'sCommercial Times, TSMC is handling the bulk of the orders for logicand power management integrated chips that will be featured in thehandset. The same media claims that the new iPhone is slated for thethird quarter of 2014, which has been the regular schedule for Appleso far.
TSMC have declined to comment, but itsshares managed to rise up 2.33 percent after the rumors went wild.It's not clear at the moment whether Samsung, Apple'schip-manufacturing partner to Cupertino's woe, is involved in the A8production at all. Taipei website TechNews claimed that TSMC hasbecome the sole chipset contractor to Apple.
Still, it is more likelythat the iPhone maker has merely diversified its supply chain, as weassume that Korean media would have went ballistic if Samsung were tolose such an important contract.
source: AFP(via Google)