Samsung rumored to be working on a dual-screen foldable smartphone called Project Valley
10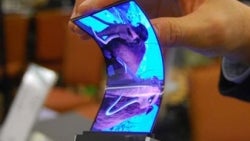 A new rumor suggests that Samsung is currently working on a dual-screen smartphone that might turn out to be the rumored Samsung foldable handset.
During the past few years, Samsung was awarded numerous patents that pertain to
foldable display technology
. These patents led to a considerable amount of rumors regarding an upcoming foldable smartphone from Samsung, although none of them turned out to be accurate, as the technology apparently wasn't ready just yet.
Back in March, an unnamed Samsung was quoted by the South Korean media claiming that
foldable smartphones are coming in 2016
. According to yet another rumor, Samsung is actively working on the world's first smartphone with a foldable display. Although the sources say that the project is still in its early stages, a release in 2016 is still probable.
Allegedly, the new Samsung handset is referred to as Project Valley internally, and will most definitely come with two separate screens. The V in the code name is thought to suggest that the Project Valley will be a foldable smartphone, but this was not confirmed by inside sources just yet. Don't get your hopes up just yet though, this new rumors also suggests that the project could be cancelled at any point. While Samsung is not likely to give up on foldable smartphones, it just might not be ready to release a commercial device by the end of 2016.
Back in early 2011
during a special event at CES
, Samsung unveiled and demonstrated the first flexible Youm panel. Since then, Samsung has started integrating flexible displays in some of its Android products, first with the single-edge
Galaxy Note Edge
last fall, and more recently on the dual-edge
Samsung Galaxy S6 edge
. The user cannot change the curvature of the display of these two smartphones, as the flexible panels are held in place by the display glass.
Samsung is not the only company that's working on foldable smartphones. Numerous rumors emerged in the past according to which rival LG is also gearing up to launch a foldable smartphone in 2016. Back in October 2014, LG demonstrated a 5.9-inch smartphone display that can sustain up to 100,000 bends without visible deterioration of the display quality around the seam.