New Samsung patent illustrates a foldable smartphone display
9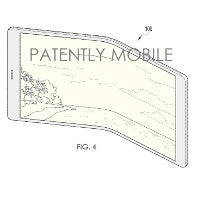 Back in 2013, Samsung demo'd its so-called
YOUM flexible displays
for the first time, and it appears it may be getting closer to actually turning those into an actual, commercially-available product.
A new Samsung patent application, uncovered by
Patently Mobile
, details a flexible display that can bend both forward and backwards without snapping in two (or more) pieces. What's even more interesting is that Samsung has also apparently found a way to allow users to keep the bent screen in place -- so it can be used as an alarm clock on your night stand, or something among those lines. The approved patent was filled back in February this year, but it's only now that the US Patent and Trademark Office is making the information publicly-available.
This is not the first time we hear of Samsung's (or its cross-town rival, LG's) intentions to pursue flexible displays for use in future smartphones, and, at this point, it's hard to argue that both companies mean business. Seeing as both companies have extensive experience with display manufacturing, and both currently find themselves in a position in which they need another big break (LG wants to grow, while Samsung is struggling to keep its empire as profitable), we're probably assured to see that particular technological niche continue growing and improving. That said, it's probably going to be a few good years before gadgets previously reserved for science fiction become widely-available.