Samsung stuns Apple by partnering with Disney for AR Emoji
41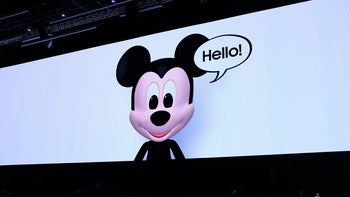 Samsung introduced its new AR Emoji feature today, found on its just announced
Samsung Galaxy S9
and
Samsung Galaxy S9+
. Besides scanning the user's face to create a personal emoji that mirrors every movement made by him/her, Samsung has entered into a partnership with Disney that allows for the creation of AR Emoji using the company's famous characters. That announcement might have upset the suits at Apple, especially because the Steve Jobs estate happens to be one of the largest Disney stockholders. Additionally, Company president Bob Iger sits on Apple's board. Apple and Disney have worked together on other projects, and Mickey Mouse is a watch face option for the Apple Watch.
Disney, one of the biggest names in the entertainment world, has a huge library of characters known worldwide. Animated personalities like Mickey Mouse, Minnie Mouse, Goofy, Pluto and Donal Duck will appeal to both kids and adults alike. Since young children usually don't make the smartphone purchasing decisions in a typical household, we assume that Sammy expects adults to be attracted by the inclusion of the Disney AR Emoji.
The Samsung Galaxy S9 and Samsung Galaxy S9+ will both launch on March 16th. It will be interesting to see how Samsung incorporates the Disney AR Emoji into its marketing of the new handsets. Okay now, all together everyone: "M-I-C-K-E-Y-M-O-U-S-E."