More evidence that Note 9 could come with a huge battery pops up
7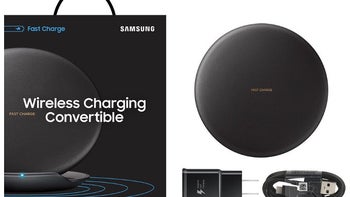 As if we needed even more indirect evidence that something big is brewing in Samsung's Note line battery department (and we don't mean
self-combusting
), a leak out of the FCC outed one yet-to-be-released wireless charger from Samsung with a raw output to match the eventual
4000mAh battery of the Galaxy Note 9
.
The charger, codenamed EP-N6100, pulsates with the whopping 2.1A at 12V, compared to 1.67A at 9V for the current
Fast Charge Stand (2018)
that Samsung debuted together with the
Galaxy S9
and
S9+
, and carries the model number EP-N5100. Needless to say, this would mean faster charging speeds for an eventual Note 9 or whatever Samsung introduces next on the high-end.
Alternatively, Samsung might just be taking advantage of the newly-widened
FCC regulations for wireless charging
. About a month ago, the FCC raised the 5W coil restriction to the whopping 15W, and the radio frequency exposure distance has also been increased drastically. Those new boundaries are now reflected in the FCC documentation for Samsung's upcoming EP-N6100 charger, so brace yourselves for some mighty fast
wireless charging
later this year.