Samsung may also unveil upgraded LTE Galaxy Tab 8.9 next week
3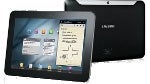 Sammy Hub isn't done for the day. First, the site sent out some insider info about an upgraded
LTE Galaxy S II that may be announced
for Verizon at Samsung's NYC event next week. Now, the site is saying that the Samsung Galaxy Tab 8.9 may be getting the same treatment, with upgraded specs, an LTE radio and an announcement next week.
In addition to the LTE radio, the bumped up specs for the Tab 8.9 include: Android Honeycomb 3.2, and a 1.5 GHz dual-core SoC. The rest of the specs remain the same for the device. That should be a nice little speed increase for the Tab.
The rumors had been that the Galaxy Tab 8.9 would be announced at the IFA consumer electronics conference in Berlin the first week of September. But, given the LTE radio update, it certainly wouldn't be surprising to see the 8.9 announced a bit earlier at the NYC event next week. We're sure Verizon wants to get the word out about this one as soon as possible.