Samsung GALAXY Tab 8.9 Review
18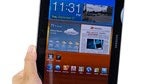 Introduction:
When we think about Samsung, one of the first things that tend to come to mind is the fanatical rate on how quickly they're able to develop, produce, and bring devices to market – and it shows just by looking at their smartphone portfolio. Concurrently, we're beginning to see the same thing happening over in the tablet world as they quickly established themselves with the original 7-inch
Samsung GALAXY Tab
.
Early in the year, they abruptly rocked the boat by introducing the
Samsung GALAXY Tab 10.1
, which then received a huge overhaul recently with its design so that they wouldn't be outdone by another rival. However, things don't end there as they're able to fill in the gap between the two models with the
Samsung GALAXY Tab 8.9
. Employing the same design characteristics and hardware under the hood, it's going to be intriguing to see how this $469 priced tablet will be able to secure its own identity.
The package contains:


Samsung GALAXY Tab 8.9
Wall Charger
USB cable
Stereo Headphone
4 ear bud replacements
Quick Start Guide
Health & Safety and Warranty Guide
Design:
Besides its discernible size difference, the Samsung GALAXY Tab 8.9 looks and feels much like its bigger brother. Visually, it utilizes the cookie-cutter tablet design approach that we're all familiar with by now, but it's still able to stand out thanks to its razor thin construction at 0.34" thick uniformly all around. At first glance, it seems as though it's sporting a brushed metallic back cover of some sort, but in fact, it's nothing more than a tough plastic material that emulates the look of a metal exterior. Despite the less premium material in use, we're actually impressed that it does a superb job in repelling dirt and debris from sticking on – thus, keeping it looking clean at all times. Overall, it's not something new that excites us, but it still works and comes together very well.

As its name implies, the tablet is sporting an
8.9" PLS
(Plane to Line Switching)
LCD display
with a sizable 1280 x 800 resolution – the same resolution as the GALAXY Tab 10.1. Combining its screen size and resolution, it obviously produces some hard crunching high pixel density, which makes it so detailed looking. Adding to its lovely appearance, its high brightness output, great viewing angles, and piercingly warm color production, all combine together to give us one gorgeous looking display that looks fantastic in all conditions.
Literally, everything else regarding the Samsung GALAXY Tab 8.9 is absolutely identical to its bigger brother as it features the same propriety charging/dock port, left & right speakers, microphone, volume rocker, and dedicated power button around its sides.
When it comes to
cameras
, it's also unchanged as it flaunts a 2-megapixel front-facing one above the display and a 3.2-megapixel auto-focus snapper in the rear with an LED flash. However, it's still sorely lacking a built-in microSD card slot to increase its internal storage – though, you can purchase an optional adapter that plugs into its charging port to get that functionality.
Recommended Stories