Samsung to officially launch Watch Design Studio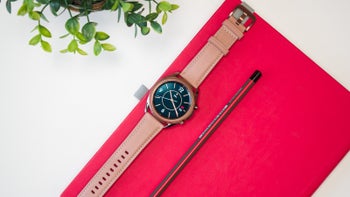 Samsung
has announced its
Mobile World Congress 2021
virtual event for the upcoming Monday (June 28), where the Korean giant will be "unveiling its vision for the future of smartwatches".
While the company hasn't shared much more beyond that in regards to MWC 2021,
LetsGoDigital
has just discovered that among Samsung's announcements at the event will be Samsung Watch Design Studio.
This discovery is based on a
patent
application filed by Samsung yesterday (June 22), which contains the following description:
Samsung Watch Design Studio trademark description : 'Retail store services for smartwatches and band straps. Providing online software for the purpose of allowing customers to customize and design and purchase smartwatches and smartwatch band straps.'
As the description suggests, Watch Design Studio is specialized software to be used by retail stores for the purposes of letting customers customize a Samsung smartwatch online before purchasing it.
A similarly named Galaxy Watch Studio (formerly Galaxy Watch Designer) is an app that has already been available in beta for a while, so the final version of this app might also be getting announced on Monday.
The latter app lets developers create and even sell watch faces for Samsung's smartwatches, namely the Gear S3, Gear Sport, Galaxy Watch, Galaxy Watch Active,
Galaxy Watch Active2
, and
Galaxy Watch3
.
Although the app is seemingly meant for developers, Samsung has previously noted that it is actually "for both amateurs and experts". It allows for the easy creation of original watch faces, particularly for those who are familiar with the likes of Adobe Photoshop and Illustrator. The Galaxy Watch Studio beta for Windows and MacOS is available for download on
Samsung's website
right now.
In addition, at MWC 2021 Samsung is also expected to announce a security feature or app called Samsung Good Lock, which is described in its patent application as follows:
Samsung Good Lock trademark description : 'Downloadable software for smartphones and tablet computers, software for operation, implementing, controlling, using and customizing user interface on smartphones and tablet computers'.
In any case, it would seem that part of Samsung's "vision for the future of smartwatches" is allowing for as much user, customization as possible.