Samsung has sold 38 million Galaxy Notes so far
35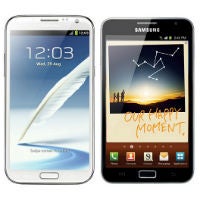 We've seen the big reveal of the Samsung Galaxy Note 3, but we still have a couple weeks before it starts to hit store shelves. That doesn't mean we can't get some interesting information about the Galaxy Note line. Apparently, Samsung has sold over 38 million Note phablets so far.
The number comes directly from Samsung's own JK Shin, who was speaking at a press meeting during IFA. Shin said that the original Galaxy Note and the Galaxy Note II combined sold over 38 million units worldwide so far. Shin also went on to say that he believes the Galaxy Note 3 will outsell the Note II, and he is predicting upwards of 10 million units will be sold of Samsung's newest phablet.
The Samsung Galaxy Note 3 is planned to go on sale in 149 countries around the world on September 25th, but it won't make it to the U.S. or Japan until in October. T-Mobile has said the device will be available on
October 2nd
, AT&T has announced the date as
October 1st
, and Verizon has put the launch at October 10th.