Samsung evoking good old times with WM-based Omnia Pro 4 and Omnia Pro 5
2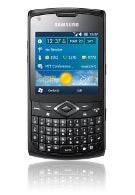 We need more Windows Mobile 6.5 phones like we need a bullet in the head, but there is something nostalgic in Samsung's decision to push two of those out of the door just before Windows Phone 7 hits.
The two full QWERTY candybars go by the names of Samsung Omnia Pro 4 B7350 and Omnia Pro 5 B6520. The last one runs the Windows Mobile Standard OS for the simple reason of not having a touchscreen. It has a
2.4
" display with a 2MP cam on the back, and can do a triple band 3G (900/1900/2100).
Strangely enough, the lesser number has the better specs – the Samsung Omnia Pro 4 has the bigger screen (2.62" touchscreen), and a 3.2MP camera plus a front-facing one for videoconferencing, but it is only dual band 3G (900/2100).
Other than that they share common virtues - WiFi b/g, Bluetooth
2.1
, A-GPS, FM radio and applications for social networking. Who knows, with Windows Mobile's traditionally well-executed Exchange push email option and Office Mobile 2010 functionality, you might just spark some interest in the corporate road warriors.
The Samsung Omnia Pro 4 will be available starting July in Europe, CIS and South Eastern Asia, and the Omnia Pro 5 will be available from August in SEA, MEA regions, India and Latin America.
Samsung Omnia Pro 4 B7350 Specifications
Samsung Omnia Pro 5 B6520 Specifications
source: Samsung