Samsung employees are said to be wearing Wear OS powered Gear smartwatches
16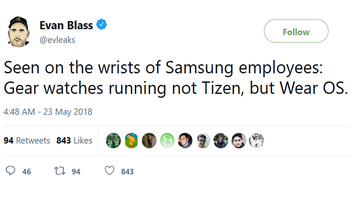 A flood of rumors about the Samsung Gear S4 smartwatch recently crossed our desks, and we passed them along to you right away. For example, earlier this month we heard that the timepiece, reportedly code named Galileo,
will be offered in two sizes
. The LTE version of the device is supposedly going to be available from Verizon, T-Mobile and AT&T. A fresher rumor that we passed along just a couple of days ago, suggests that Sammy's new smartwatch could carry the Galaxy name
and be pre-installed with Wear OS
. The latter is the operating system for wearables that was formerly known as Android Wear.
That report appears to have been backed up by a tweet disseminated today by Hall of Fame leaker Evan Blass. According to Blass, "Seen on the wrists of Samsung employees: Gear watches running not Tizen, but Wear OS." The watch is expected to be unveiled in the second half of this year. It is possible that Samsung has decided to put a fork in the road and will continue to offer Tizen powered Gear branded watches while launching a new line of Wear OS Galaxy wearables. However, if we take Evan's tweet at face value, Samsung could be keeping the Gear name and merely replacing Tizen with Wear OS.
It's not like Samsung has never stuffed Android into a smartwatch before. Back in 2013 (only five years ago in calendar terms, but light years away in terms of technology), Samsung introduced the Galaxy Gear timepiece, which ran on Android. Two years later,
the Samsung Gear S2 was released with Tizen running the show
.