Upcoming Samsung smartwatch may run Android, report suggests (Update)
26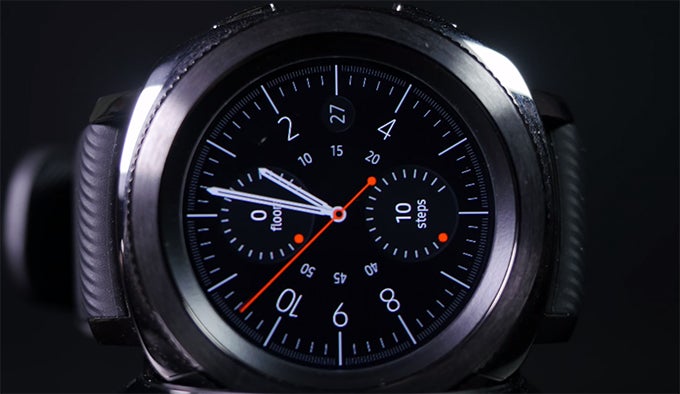 The Samsung Gear S4 rumor mill is now steadily blowing, with recent reports claiming that the Gear S4, code-named
Galileo
, is being developed in the United States and will come in
two sizes
. Further adding fuel to the fire is
Samsung's recent trademarking of the 'Galaxy Watch' and 'Galaxy Fit' names
, which could suggest a big branding change for future Samsung smartwatches and fitness trackers.
A new report, coming from prolific tech leaker Ice Universe (@universeice), now claims that Samsung is working on a smartwatch powered by Google's Wear OS (née Android Wear). This would be something of a precedent in Samsung's history with wearables, which have traditionally been based on Tizen, save for the 2014 Gear Live, which ran Android Wear, and the original Galaxy Gear, which was Android-based at first, but got its OS replaced with Tizen via a firmware update.
The report appeared on Chinese microblogging site Weibo and doesn't make it clear whether Samsung intends to separate the alleged Wear OS smartwatch from its main lineup of Tizen devices, or if it's looking to make the switch over to Google's OS. Going by logic, and given the huge popularity that Samsung's Gear wearables have been enjoying over the years, it seems highly unlikely that the company will turn its back on Tizen and adopt Wear OS entirely.

Samsung and Google are going to release an Android Wear flagship watch in the second half of this year. Gear S4 to be renamed Galaxy Watch (Translated from Chinese)
However, in his post, Ice Universe claims that Samsung and Google are working on a new
"Android Wear flagship watch,
" which is supposedly slated for release in the second half of 2018. He goes on to confirm that the Gear S4 will, indeed, adopt the 'Galaxy Watch' moniker, as suggested by
previous reports
.
This report should be taken with a grain of salt, but if true, it could mean that Samsung intends to keep Tizen at the forefront with the new Galaxy Watch (a.k.a the Gear S4) and release a Wear OS-powered smartwatch on the side.
Talking about the new
Snapdragon smartwatch chip
, Qualcomm's senior director of wearables, Pankaj Kedia, recently said that Google and
"several partners"
are working to release Wear OS devices packing the new chip by the holiday season, alongside a
"flagship smartwatch"
that will highlight all the best features of both the new silicon and Wear OS. Could this flagship smartwatch be co-developed with Samsung? It wouldn't be completely out of the question, as Google and Samsung have previously teamed up to work on hardware (Nexus S, Galaxy Nexus, Nexus 10), but it is too early to tell.
Android smartwatches are not in a good place right now. Due to fizzling popularity and dwindling sales, Google recently made the decision to rebrand Android Wear as Wear OS, in hopes that it would be able to turn a new page and regain its foothold in a market dominated by Tizen and watchOS. The rebranding was a necessary move, considering that every third Android smartwatch was being paired with an iPhone, and reflects a broader trend at Google of removing the Android moniker from cross-platform services. But rebranding a product is one thing. Reinventing it is something else entirely.
Update:
Evan Blass (@evleaks) recently claimed that Samsung employees have been spotted wearing
"Gear watches"
running Wear OS. Still no word on whether this Android smartwatch is a separate endeavor, or if the next Samsung flagship wearable will, indeed, ditch Tizen in favor of Wear OS.
Seen on the wrists of Samsung employees: Gear watches running not Tizen, but Wear OS.

— Evan Blass (@evleaks) May 23, 2018
ALSO READ: