Samsung starts mass production of hole-in-display panels, may hold exclusivity on pierced flexible OLEDs
19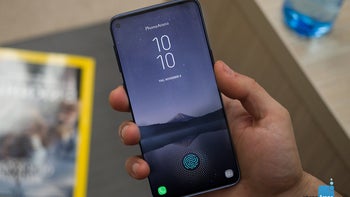 Huawei may
beat Samsung to market
with a hole-in-display phone next month, but Samsung would still be ahead of the pack with exclusivity over pierced flexible OLED screens,
reports Korean media
. The company calls this Infinity-O display and may debut it with the member of its midrange A-series next month, but on an LCD panel which is cheaper to produce.
It is harder to drill a hole in a screen and have everything around it showing an image, it turns out, than having a top bezel protrusion, aka "notch," at least from an engineering perspective. The hole where the front camera will go needs to be drilled precisely with lasers, and Samsung found a way to use its existing laser equipment to outfit the current OLED conveyor belts instead of wreaking havoc on the production flow by installing new machines.
It has also allegedly mastered the deposition of the organic material around the hole area and paid special attention to the gap between the are that will be pierced with the laser, and the bezel, in order to keep it fully operational. The Hole in Active Area (HIAA) process has been developed for Samsung's flexible OLED lines which would give it a year or two advantage before the competition, as it is the only maker with rich experience in producing curved, flexible OLEDs.
Other OLED panel manufacturers don't have the ability to produce enough quality yield of such displays (just look at the LG's green tint issues on some
Mate 20 Pro
screens) so they might be forced to apply the hole-in-display technology on rigid OLEDs or
LCDs
which aren't very suitable for drilling.
Thus, while the Galaxy A8s or whatever hole-some display Huawei comes up with, are still expected to use BOE-made LCD or OLED screens, the
Galaxy S10
models would
utilize
Samsung's exclusive HIAA tech for flexible OLEDs. The company has reportedly already started mass production of the pierced
A8s
panels, so we'd expect an announcement pretty soon, as a harbinger of what's to come with the S10.