Samsung could bring standalone calling features to its Gear 2 smart-watch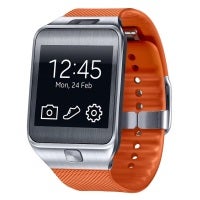 The Korea Herald says that SamsungElectronics and the South Korean Telecom are discussing a new SamsungGear 2 smart-watch with standalone calling features - that is, phone callswith no pairing to a smartphone. Currently, the Galaxy Gear and theGear 2 can make calls only while tethered to a Galaxy smartphone. The Gear 2v2, however, will have a SIM-card (USIM) slot and 3G connectivity. Presumably, the South Korean carrier will lock it to its own network.
A representative of SK Telecomconfirmed that the new Gear 2 will be initially released in Korea,but it's possible that it will reach global markets later. Meanwhile,the Samsung Gear 2, Gear 2 Neo, and Gear Fit will be up for sale inthe coming weeks.
source: KoreaHerald via GFor Games