Samsung announced its music BEAT edition phones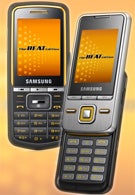 *Updated on September 26, 2008*
Today, Samsung officially announced its new BEAT edition, which will consist of the manufacturer's music-centric phones. After Sony Ericsson's Walkman and Nokia's XpressMusic series, Samsung is finally giving a name to its line of phones dedicated to the music fans. The names of the first couple of phones are respectively BEATb for the (candy)bar and BEATs for the slider.
Samsung touts both the software and hardware audio features, which are common for the two Beat phones. On-board is Samsung's own DNSe DSP technology, which is designed to increase the quality in mobile devices. Another feature is the Auto EQ, which adjusts the equalizers depending on the music one is listening to, once again claimed to increase the sound quality. Using Shazam's Find Music service, user can record a short sample and send it through Internet, to receive information or even purchase the track. This is similar to the Track ID in Sony Ericsson phones and we hope it will be at least that good.
Both the BEATb and BEATs have hardware music keys but can also be controlled by moving them, thanks to the
Motion
Play feature. Shaking the phone will change the song (to previous or next), tapping on it will play/pause and flipping it over will mute the sound. This reminds us of both the Walkman line and some Nokia phones, but has also been used in previous models of Samsung.
Other common features of the two new phones include 3.5mm stereo jack, stereo Bluetooth 2.0 support, FM radio and microSD slot for memory.
Samsung BEATs
M3200 is quad-band global GSM phone (850/900/1800/1900). It has B&O ICEpower amplifier, 2" 262k color QVGA display, battery that can last up to 7 hours of talk time or 21 hours of music playback and is 17mm thick. It is expected to launch in October.
The
Samsung BEATb
M3510 is a tri-band phone with European-friendly frequencies (900/1800/1900). It has more modest battery times (5 hours of talk time and 19 of music playback) and lacks the Bang and Olufsen amp, but its display can show up to 16mln colors and it is slimmer, at 9.9mm. The Beatb is the first to launch on the market, expected to be available before the end of the month.
source: Samsung