Samsung SVP sees Samsung Galaxy S5 outselling its predecessor; Tizen phone to launch this quarter
5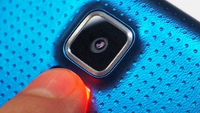 Yoon Han-kil, senior vice president of Samsung's product strategy team, has good news for those who want to see the Korean manufacturer's new flagship model succeed. Despite what the executive calls a highly competitive market for top-shelf phones, he sees the
Samsung Galaxy S5
outselling its predecessor by a substantial margin in the first month. The
Samsung Galaxy S4
sold 10 million units in its first month on the market
. On Tuesday, another Samsung executive said that
the company hopes to ship at least 35 million units
of the Samsung Galaxy S5 in this quarter.
Yoon also noted that the difference between the two models is in the approach that Samsung took on each of them. With the Galaxy S4, Samsung tried to shoehorn as many applications as possible into the device. This year, Samsung cut back on the gimmicks, and focused on useful additions such as the IP67 certification, which allows the phone to sit in up to 3.2 feet of water for 30 minutes and surface unscathed.
Samsung also beefed up the rear-facing snapper to 16MP, and touched everyone's heart by improving battery life. The "ultra power-savings mode" turns off certain apps to conserve battery life when the power is beginning to fizzle. While previous Galaxy S models were shipped to carriers with 50 apps on board, the Samsung Galaxy S5 shipped with just 40.
In addition to news about Sammy's top selling handset, Yoon also had some information about when the company's first Tizen powered phone will hit the light of day. According to the executive, a high-end Tizen driven handset will launch late this quarter, which means it could be out as soon as June. For the platform to be considered a success, Yoon said that it would have to account for 15% or more of Samsung's smartphone shipments.
Contradicting some talk that Samsung planned on leaving Android for its home cooking, the SVP said that Android "
still needs to be our main business
." He said that Tizen and Windows Phone would be reserved for markets where Android is not working. He also said that Samsung wants the Tizen powered Gear 2 smartwatch to be compatible with Android phones made by others, and revealed that Samsung will ship a new Android powered watch later this year.
"We had tried to launch (Tizen) with DoCoMo and Orange ... but couldn't because of poor market conditions. We have changed our strategy and will release the phones in a few countries where we can do well."-Yoon Han-kil, senior vice president, Samsung
Yoon also gave Samsung fans something to think about for later this year, when he started chatting about the
Samsung Galaxy Note 4
. The next iteration of Samsung's popular phablet line will have a new form factor, according to the executive. That model will be launched in the second half of this year.
source:
Reuters