Samsung Internet Browser v11 brings back Video Assistant, adds new features
3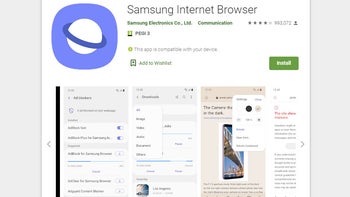 Samsung
announced about two weeks ago
that Internet Browser will be getting a handful of new features, while some will be brought back after being cut for whatever reason. As the title mention, Samsung is bringing back the Video Assistant by popular demand.
The Video Assistant offers Samsung Internet Browser users easy access to full-screen mode and lets them play videos in a standalone popup player or view them directly on a TV. There are some limitations to the feature though, as popup play can be restricted by content providers.
The update also introduces a new set of add-ons, the possibility to customize the toolbar, as well as tab manager renewal. Also,
AndroidPolice
reports that Samsung Internet Browser v11 is based on a newer Chromium 75 browser engine, which adds a few security enhancements like the fact that popups activated when closing a page will always be blocked.
If you've been running the Internet Browser 10.2, then you should already be familiar with all the changes included in the new release. The only new feature for those who didn't install the previous beta is the upgraded Chromium browser engine.