New features are coming to Samsung Internet browser
7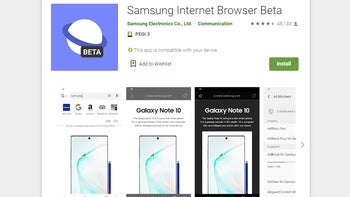 Samsung's mobile browser generically named Samsung Internet continues to evolve thanks to the timely updates that the South Korean company keeps pushing. The most recent update released by Samsung is quite important and the result of a few months of work,
according to developers
.
The update adds new features and brings back old ones that Samsung removed for whatever reasons. For example, the video assistant functionality has been added to the browser once again by popular demand.
With video assistant, Samsung Internet users are provided easy access to full-screen mode and let them play videos in a standalone popup player or view them directly on a TV.
A new option that allows you to block certain apps that are triggering ads or promotions for web page views in a non-transparent and unwanted way. You can now trace which apps are doing this and prevent them from opening up web content.
More importantly,
Samsung Internet 10.2
has a new tab presentation that provides users with more info about the tabs they have open in an easy list view. Of course, you can switch to the old view if you don't like the new presentation.


The Secret mode has been enhanced with some options, which enable users to turn on Samsung's Smart Anti-Tracking feature as well as the do-not-track service. Samsung strongly recommends that you turn these options on, but it does mention that tracking protection may break some web content, so see how it goes for you.

The latest version of the browser makes it easier to sync data with Samsung Cloud, such as quick access shortcuts, bookmarks, saved pages and open tabs. Last but not least, users can now customize the buttons they see on the button bar at the bottom of the screen and the larger menu. There are new options in the Settings / Appearance / Customize Menu that will help you choose which buttons you want to see on the toolbar.