Samsung Infuse 4G Unboxing
17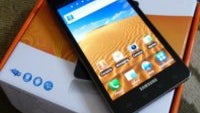 Now that its
launch date and on-contract pricing are known
, we're better able to grasp the sheer amount of anticipation surround the
Samsung Infuse 4G
. In any event, this handset is surely shaping up to me a monster device for AT&T's lineup – even more with its sharp razor thin profile, magnificent Super AMOLED Plus display, and its HSPA+ connectivity.
Although its retail packaging might be all the ordinary, some of its well-known features are blatantly mentioned on its sides to let people know exactly what they're getting themselves into. Specifically, it mentions items such as HSPA+ with enhanced backhaul, 4.5 inch Super AMOLED Plus display, Android 2.2 platform, and an 8-megapixel rear & 1.3-megapixel front facing cameras.
Inside, we're presented with all the usual set of documentation that we're traditionally given, like the Quick Start Guide, but it comes with an activation code that gives you a free
$25 Samsung Media Hub credit
. Moreover, we find the usual suspect of accessories along for the ride as well – like its wall charger, 3.5mm headphones, additional ear buds, microUSB cable, and a microSD card adapter. Interestingly enough, we're thrilled to find that Samsung decided to throw in an
HDMI-out adapter
that will allow you to output video to a high definition television set. Obviously, we'll take it nonetheless, but it surely means that you'll need to lug it around if you want to easily share content on the big screen.
Without a doubt, it's amazing to see how
thin looking
the handset really is when compared to other devices pushing the 4.3" and up mark with screen sizes. Granted that it's completely constructed out of plastic, we're agreeable with its construction, which in turn, makes the handset feel super lightweight. Turning it on and getting situated with the
TouchWiz interface layered on top of Android 2.2 Froyo
, some will appreciate its uniqueness, while others might be distracted by it. Either way, it's running at a reasonable rate thus far. We'll be putting it through the paces over the next few days, but check back soon as we'll have our in-depth review up shortly!
Recommended Stories