Samsung-AT&T's May 5 event: Live Coverage
30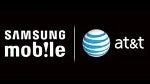 So, here we are live at today's joint
Samsung-AT&T event in NYC
! As you might guess, we are to keep you updated with the live blog below, so that you can (kind of) experience the event as it unfolds.
But what exactly are we to see? We have no idea, to tell you the truth. There are a few suggestions however - one is that the companies will unveil AT&T's version of the
Samsung Galaxy S II
. Sounds good to us, as we'd love to see an official Stateside version of this monster of a phone. On the other hand, there are rumors that we might see the
Infuse 4G
get yet another unveiling (although this one's pretty much official
since CES
).
The
Samsung Galaxy Tab 10.1
and
8.9
with suitable AT&T radio frequencies are also viable options, but we guess we'll just have to wait and see.
Be sure to be online here when the event starts at 4PM ET | 3PM CT | 1PM PT!
Recommended Stories