Samsung Gear S unveiled by Samsung; smartwatch offers 2 inch curved display and 3G connectivity
75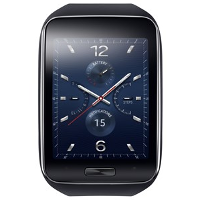 Samsung has introduced a new Tizen powered smartwatch, the Samsung Gear S. This is what Samsung is calling a "smart wearable device" that brings the smartphone experience to your wrist. Featuring a curved 2 inch Super AMOLED display, the device fits perfectly around the wrist for a comfortable fit. The Samsung Gear S comes with three connectivity options, 3G, Wi-Fi and Bluetooth. The 3G connectivity means that you don't have to be tied to your smartphone for the Gear S to send you notifications and messages.
The Samsung Gear S allows you to take and make phone calls from your wrist, or receive calls forwarded from your phone. Enhanced S voice functionality means that users can voice commands in order to get things done. Turn-by-turn pedestrian navigation is powered by HERE. The Financial Times 'fastFT' app works together with Spritz' advanced-reading technology, and Facebook lets you stay up to date with your social media messages.
The Gear S is the perfect companion for those who track their health and are concerned with staying in shape. Sensors, GPS capability and S Health features, are just what
the doctor ordered. And the Gear S didn't forget about you runners. The Nike+ Running app allows you to leave your smartphone at home while your wearable keeps track of your running stats for the day, and keeps you motivated.

The 2 inch Super AMOLED screen on the wearable offers resolution of 360 x 480, and a dual-core 1GHz processor is on board. As we noted, Tizen is powering the device, and there are built-in features like the battery saving Power Saving Mode. The Gear S has IP67 certification, so it can handle being submerged in up to 3.2 feet of water for as long as 30 minutes. The timepiece comes with 512MB of RAM, and with a 300mAh Li-ion cell, you can get as much as 2 days out of the battery before needing a recharge.

Also announced on Thursday was the Samsung Gear Circle headphones. This device pairs with a smartphone, using Bluetooth, to allow you to take calls, listen to music, and make voice commands. A vibrating alert tells you when a call or notification is coming through, and a magnetic lock clasps around the users neck when the Gear Circle is not being used.



"Samsung is leading this exciting and rapidly developing wearable category through progressive innovation. The Samsung Gear S redefines the idea of the smart wearable and the culture of mobile communication. It will let consumers live a truly connected life anywhere, anytime."-J.K. Shin, CEO, mobile communications at Samsung


Both the Samsung Gear S and Samsung Gear Circle will be launched through the usual Samsung retail channels beginning in October. Pricing has yet to be announced. The Samsung Gear S will be available in black and white.


The Samsung Gear S is introduced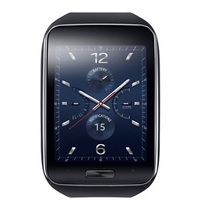 source: Samsung