Samsung Galaxy Tab to be offered by Sprint in November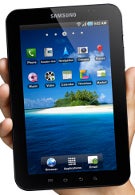 We recently
showed you
a leaked photograph of the CDMA version of the Samsung Galaxy Tab. Not too long after that, we
reported
that a screen shot of Verizon's computer system hinted that the Android tablet was to be launched by the carrier. Today, BGR is reporting that Sprint, the nation's second largest CDMA operator after Verizon, will also be offering the Galaxy Tab. The speculation revolves around a November launch time for the Froyo flavored device.
When we earlier
told you
about a leaked Verizon roadmap that included the Galaxy Tab, it called for a November release. This would seem to dove tail perfectly with BGR's speculation. So far, no details on pricing have been disclosed, although today we
reported
on what some various online retailers are charging overseas to pre-order the tablet.
Samsung Galaxy Tab Preview
source:
BGR