Samsung Galaxy Tab might cost more than you hoped for
5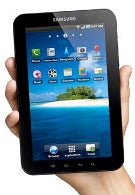 The
Samsung Galaxy Tab
has appeared on a few websites, with prices that make us wonder what is Samsung trying to achieve here, unless, of course, those are mere speculation. Various online retailers have the preorders set around
€699 ($895)
for the 16GB
and €799 ($1,025) for the 32GB model.

Now, most pre-order prices are higher than what the manufacturer will actually be charging when the product is widely available. Samsung diffused the rumors, saying that there is no official scheme set yet.

An MSRP that appeared for Sweden, though, seems to confirm what's already out there. The Samsung Galaxy Tab is set at the Swedish krona equivalent of $1,240, with 20 percent value added tax in this price. The Daily Mail cites company officials stating the tablet might cost only £200 ($308), but, for what it's worth, our opinion is that these would probably be carrier prices on contract.
On another note, the Galaxy Tab has already been rooted to prove a point, and one of the said retailers has set the date for its shipment around October 12th. Tell us what you think, does the Galaxy Pad stand a chance at such unsubsidized prices, or you won't go near anything that costs more than the $500 iPad?

Samsung Galaxy Tab preview
source: IntoMobile and DailyMail