Samsung Galaxy Tab is headed to Bell & priced at $649.95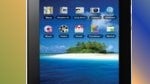 With almost all of the US carriers slated to get the Samsung Galaxy Tab already making announcement regarding availability and pricing, now we look to the north to our friends in Canada to see what they're all in for.
From the looks of it all, Bell customer can expect to see the Android powered tablet to ship on November 16th for the price of $649.95. In fact, that price is somewhat a little bit better than what Rogers is offering for their model – which is suggested to fall at $674.99. Regardless, it pretty much falls in line to the pricing we've been seeing of late from other wireless carriers.
Unfortunately, there is no information or details regarding potential data plans associated with the tablet – but it wouldn't shock anyone if it follows similarly to what we've seen mentioned by other carriers already.
Still, November is surely looking to be a great month for Samsung since their tablet will be given the green light from a wealth of partners.
via
MobileSyrup
Samsung Galaxy Tab for Bell will sell for $649.95