Samsung Galaxy S4 with Snapdragon 800 and LTE-A now taking on Europe
11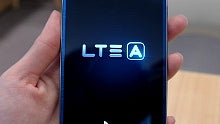 The long-awaited refresh of the nowaging Samsung Galaxy S4 is now a fact for those of you from Europe,and Sweden in particular, at least for the time being. Yes, we'retalking about the GT-i9506, or said in plain language: the Snapdragon800-touting Galaxy S4 that was first made available for the Sammy'slocal market in South Korea only all the way back in June. Andyes, that also means that it comes packing LTE-Advanced capabilities,so it actually does make sense that the upgraded Galaxy S4 was madeavailable for Sweden first, as it's one of very few countries in theworld that is doing some real progress on their LTE-A network.
There's currently no word as towhen we can expect the Snapdragon 800-equipped Samsung Galaxy S4 inthe rest of Europe, though it appears that Germany is a more or lessconfirmed destination for the refreshed phone. That's because SamsungGermany has already listed the device, though no pricing details haveprovided on this or any other European Samsung store.
It's also unclear whether thistells us anything at all about the rumor of aSnapdragon 800 version of the rugged Samsung Galaxy S4 Active,though you can rest assured that we'll keep you updated as we learnmore.