Samsung Galaxy S4 model with Snapdragon 800 chip benchmarked again
31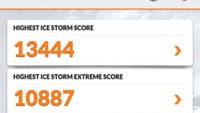 The Snapdragon 800-based Samsung Galaxy S4 benchmarks just keep on coming! What we have for you is a whole bunch of charts and graphs showing what the new silicon is capable of when placed inside Samsung's hot smartphone. What's more is that a performance comparison between the Exynos 5 Octa powered variant of the Galaxy S4, available in Korea, and the Snapdragon 800 model has been made as well.
As the benchmark results demonstrate,
the Snapdragon 800 chip running at 2.3GHz beats its counterpart
in almost all testing scenarios. It scores higher on GFX Bench 2.7, AnTuTu, and 3DMark benchmark, and the Galaxy S4 it ticks inside can reach slightly higher Wi-Fi speeds. Yet interestingly, the Samsung Galaxy S4 with Exynos 5 Octa SoC clocked at 1.8GHz handles physics calculations better, according to 3DMark. As for its battery life, the
Snapdragon 800 Galaxy S4 should be able to last about as much as its high-end rivals
, according to benchmark results we shared with you yesterday, so the extra processing power won't come at the expense of increased energy consumption.
For further details, feel free to dive into the Snapdragon 800 Samsung Galaxy S4 benchmark results below. And in case you'd like to own one of these beasts, it should launch outside of South Korea in the coming months.