Samsung Galaxy S4 and the Apple iPhone 5 will lead handset display manufacturers to a 55% gain in revenue in 2013
5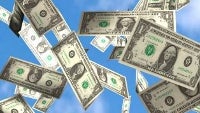 According to a report by DisplaySearch, demand for higher resolution, larger touchscreens will help handset display manufacturers increase revenues by 55% this year. Part of the increase is coming from the higher average price for smartphone displays along with a 15% increase in the number of panels that will be shipped this year to 1.9 billion units. But the main factor in this increase in revenue is the larger sized screens being used on smartphones.
Hiroshi Hayase, VP of small- to medium-size displays at DisplaySearch, credits the displays used on two popular handsets, the
Apple iPhone 5
and the
Samsung Galaxy S4
for the increase in high-end flat panel displays. The report notes how the AMOLED screen on the Samsung Galaxy S4 is now 5 inches with resolution of 1080 x 1920 with on-cell touch, up from the 4.8 inch 720 x 1280 panel on the
Samsung Galaxy S III
. By the same token, the increase in the glass from the 3.5 inch 640 x 960 resolution screen on the
Apple iPhone 4S
to the 4 inch 640 x 1164 (with in-cell touch) on the iPhone 5 has led to a growth in revenue for LTPS TFT LCD manufacturers.
The average selling price of an AMOLED screen has risen from $48.36 in 2012 to $49.37 in 2013. The average selling price of an LTPS TFT LCD screen is $34.57 this year, up from the $26.74 achieved last year. AMOLED screens are expected to grab a 37% market share of the mobile phone display industry this year. LTPS TFT LCD panels are forecast to be right behind with a 36.1% slice of the pie. Low priced, high volume a-Si TFT LCD displays, used in the Chinese handset market, will be third with a 26.5% share according to DisplaySearch.
"The top two brands leading growth in the global smartphone market - Samsung with its Galaxy S4 series and Apple with its iPhone 5 series - continue to increase production volume and market share. The growth in sales for these popular smartphone vendors has led to increased requirements for high-end flat panel displays, including AMOLED used in the Galaxy S4 and LTPS TFT LCD used in the iPhone 5."-Hiroshi Hayase, VP of small- to medium-size displays, DisplaySearch
source:
DigiTimes