Samsung Galaxy S4 and HTC One Google Editions are now on their way
5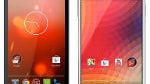 Exactly 14 days after the coveted 'Order Now' button was set alight on the Play Store
, soon-to-be owners of the Samsung Galaxy S4 and the HTC One Google Editions (GE) have started receiving their respective shipping confirmations.

Google must be feeling extra-generous, for users are reporting that instead of the expected 2 to 3 days, the e-mails promise that your stock Android-touting device will, instead, arrive tomorrow. A pretty awesome start of the day for a lot of people, if we're any judge.

A little hazy on the distinctions between the GE versions and the original ones? Well, to start off – both versions of each model feature identical hardware, so you're set on that count. Unlike their respective twins, however, both Googlefied versions will be stripped off their proprietary skins – no TouchWiz for the Galaxy S4, nor Sense 5 for the HTC One. This means no Air Gestures or any other S-branded features for the S4, and no BlinkFeed or Zoe for the One.
Ouch, so what do you gain that can possibly make up for the above slight? A pure, unspoiled Android experience and, moreover, what has become a noted privilege – you'll be among the first to be graced with the latest Android updates.
source:
Play Store
via
AndroidCentral