Samsung Galaxy S10 prices may significantly undercut Apple's latest iPhones
40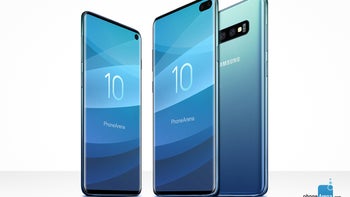 Samsung Galaxy S10 and Samsung Galaxy S10+ concept render
After months of speculation, a new
report
by website
TuttoAndroid
has revealed what could be the pricing of Samsung's next flagships in Italy. And rather disappointingly, the numbers point towards further price hikes.

Now, before proceeding, it's worth noting that Samsung's flagships – just like pretty much any other phone – cost quite a bit more in Europe than they do in the US. The price equivalents in US dollars are just for reference and do not reflect the pricing of Samsung's Galaxy S10 lineup in the US.
The Galaxy S10 may cost slightly more than the Galaxy S9
According to the report, kicking off the South Korean giant's next flagship series will be
the Galaxy S10E
. This device is said to be powered by the Exynos 9820 coupled with 4GB of RAM and 128GB of storage. It'll be available to Italian consumers for €779 ($885), the report claims.

Moving on to the regular Galaxy S10, this is expected to be sold in two configurations which coincide with those of the Galaxy Note 9 in Europe. The first will reportedly retail for €929 ($1056) and offer consumers a 6/128GB combination while the second is set to go for €1179 ($1340) and include 8GB of RAM and 512GB of storage.

For comparison, last year's Galaxy S9 retailed at €899 in the region, while 2017's Galaxy S8 could be acquired for just €829. It's worth pointing out, however, that both of these shipped with just 64GB of storage.

The report also states that completing Samsung's lineup of 4G flagships would be the larger Galaxy S10+. This device is expected to be available in a total of three configurations. The first two, which would retail at €1049 ($1192) and €1299 ($1476) respectively, match those of the regular Galaxy S10. The range-topping model, on the other hand, will offer a whopping 12GB of RAM and 1TB of storage and is set to cost a whopping €1599 ($1817) in Italy.
The Galaxy S10 series may still undercut Apple's iPhones

Despite the company's possible price hikes, Samsung's latest pricing structure would still undercut that of Apple by a significant margin – if the prices are accurate, of course. In fact, over in Italy, the cheaper iPhone XR presently retails at €889 ($1010). The iPhone XS and iPhone XS Max, on the other hand, cost consumers a whopping €1189 ($1351) and €1289 ($1465) respectively in the country with just 64GB of internal storage, rather than Samsung's rumored 128GB base storage option.
All three Galaxy S10 models
are expected to come equipped with a 12-megapixel dual-aperture camera on the rear and a secondary sensor complete with a wide-angle lens. Users of the larger Galaxy S10 and Galaxy S10+ would also gain access to a third telephoto camera and a heart rate sensor, the latter of which can be used with the Samsung Health app.

Consumers should also expect AMOLED displays on all three models, albeit slightly different ones. The cheapest device looks set to feature a 5.8-inch flat panel complete with a small display hole in the corner for the front-facing cam.
The regular Galaxy S10, on the other hand, is expected to feature a larger 6.1-inch display along with the same cut-out and the addition of curved edges. The
range-topping Galaxy S10+
is rumored to stretch this to 6.4-inches and also looks set to feature a pill-shaped punch hole in order to incorporate a second front-facing camera.
Eventually, these devices are expected to be accompanied by a separate 5G model dubbed
the Galaxy S10 X
. This smartphone may feature a humongous 6.7-inch display along with a whopping six cameras. Two of these will be included up front, like the Galaxy S10+, and a fourth camera will be added to the rear.
According to today's report, Galaxy S10, Galaxy S10+, and Galaxy S10E pre-orders will commence February 20 straight after
Samsung's Unpacked event
. This phase will continue for just over two weeks prior to a release on March 8 in most global markets.
The release date for the 5G Galaxy S10 X currently remains unclear, although recent rumors have hinted at a March 29 release. When it comes to
the Galaxy Fold
, though, there is no info on the matter. Samsung has, however, teased the latter's arrival on February 20th. Once released, the foldable smartphone should be available in limited quantities.