Samsung Galaxy S10 may arrive in five colors; fan favorites could return
43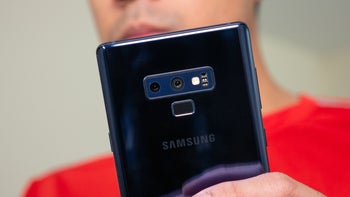 Samsung Galaxy Note 9 in Ocean Blue
With the recent unveiling of the
Galaxy Note 9
, Samsung moved towards offering a wider variety of colors in the hope of boosting both sales and interest in the smartphone. And with next year's
Galaxy S10 series
shaping up to be the brand's biggest launch in recent history, tipster Ice Universe now claims that Samsung is keen to replicate this strategy.
While the South Korean brand has announced a total of four Galaxy Note 9 variants so far, the company seemingly has five color candidates for the Galaxy S10 series. Surprisingly, though, only the black color is shared with the Galaxy Note 9. This means that the blue, copper and purple options don't appear to be under consideration at this time. Instead, Samsung is said to be looking at reintroducing some old fan favorites that were seen on previous-generation models. These are said to be silver and pink, which were both last seen on the
Galaxy S8 lineup
, white, which was last available with the Galaxy S7 series, and green, which was a
Galaxy S6 Edge
option back in 2015.
With Samsung's Galaxy S10 trio not expected to arrive
until February at MWC
, the number one manufacturer could easily cancel its plans entirely by then and look at a completely new set of colors. After all, as seen with Samsung's most recent flagship, it appears the company's list of color options isn't set in stone until the very last minute – the brand unexpectedly
scrapped the grey version
of the Galaxy Note 9 just weeks ahead of its announcement. Alternatively, Samsung could choose to add certain Galaxy Note 9 colors to its candidates list if they perform better than originally expected. In any case, though, the fact that
Samsung
is looking at reintroducing some fan favorites this early on does suggest that it's willing to take any necessary measures in order to make the launch a success.
Recommended Stories