Samsung Galaxy S10: ten new features to expect
27
Triplets and nesting dolls
Expect a flat S10 Lite, plus curved 6.1" S10 and 6.4" S10+
At the beginning there were two, now they are three. Rumored
Galaxy S10
models, that is. Just like there will be three 2018 iPhones, there could be three Galaxy S10 version, too, and one of those is said to
land with a 6.44" display
now - coincidentally, exactly as the rumored
iPhone X Plus with a 6.46" OLED screen
. Support for the Samsung triplets story comes from none other than Ming-Chi Kuo, a famed Apple analyst.
He seconds the information about an ultrasonic scanner being used on Samsung's 2019 flagships. Kuo says that two out of the three rumored Galaxy S10 models will feature an
ultrasonic
fingerprint scanner inside the display - the curved 6.1-inch and 6.4-inch versions, while the third model, with a 5.8-inch screen, will reportedly have such a scanner, too, but built into the side of the phone. This S10 Lite of sorts is allegedly going to be the cheapest model out of the three, with a flat display, so this theory clicks together nicely.
If you have been waiting for some grand anniversary overhaul of the Galaxy S-line body, however, you might be in for a disappointment. The Galaxy S10 will seemingly have... wait for it...
Infinity Display design
. The smaller models are said to be slightly larger - 0.03" and 0.08", respectively - than their
S9
and
S9+
predecessors, so a tad larger panels aren't out of the question, too.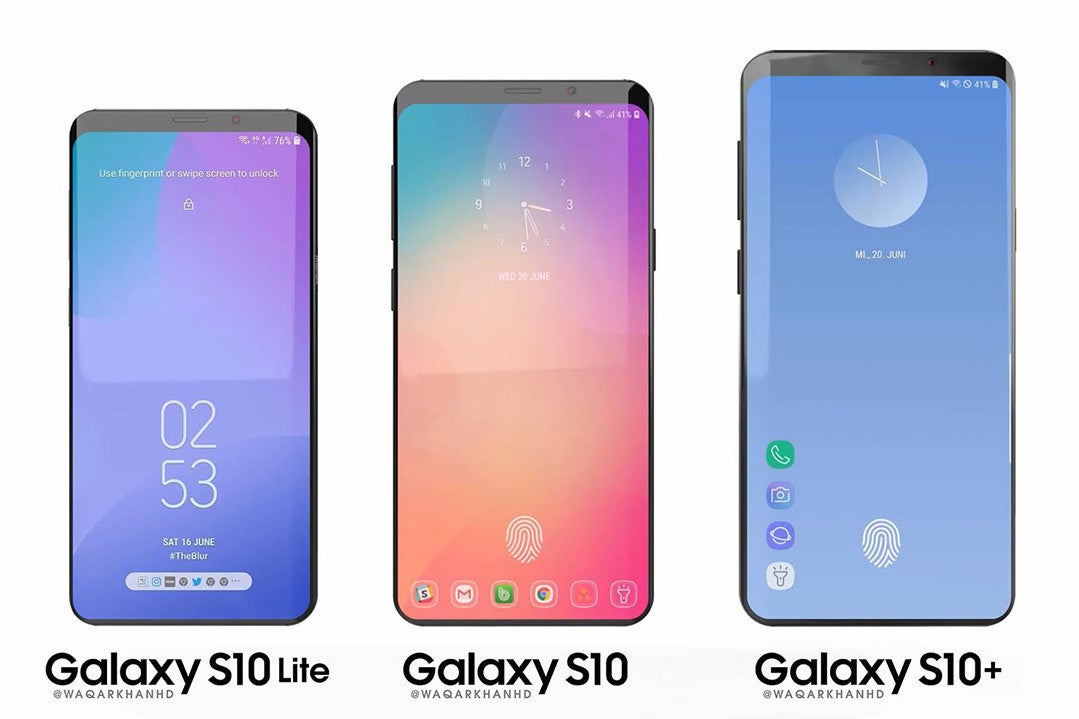 Samsung may give birth to triplets the next S-line season

Anti-Screen Door Effect AMOLED display
No more pixelated VR-ing

Samsung has filed a trademark application for "Anti-SDE AMOLED" with the Intellectual Property Office, where SDE stands for "screen-door effect." This phenomenon occurs on even the high-res displays of the S9 when placed into the Gear VR, and sometimes makes the content appear as if you are watching it through a mesh, comprised of the space between the individual pixels. As if we needed further proof that Samsung may be diving further into VR, a new type of AMOLED screen is apparently being developed specifically for the purpose, and the first in line to get it may be the Galaxy S10, or a standalone VR unit.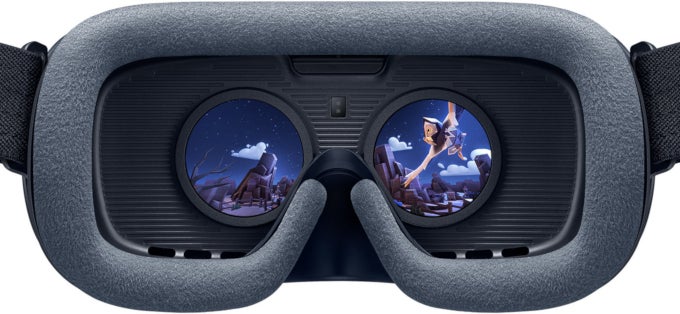 Unorthodox finger scanners
Mid-screen and side-mounted biometry
Samsung Mobile chief's DJ Koh recently tipped that the in-display fingerprint scanner on the Galaxy S10 would be of the more accurate ultrasonic variety. The executive said that if Sammy wanted to use the less precise, but cheaper to produce optical technology, it could have released an embedded under-glass reader two years ago. Makes sense, as we've been hearing this rumor since
before the Galaxy S8
hit the tape. Another corroboration for this story comes from none other than Ming-Chi Kuo who advised in a memo to clients not long ago that two out of the three rumored Galaxy S10 models will feature an ultrasonic fingerprint scanner inside the display.
If you were curious how will Samsung go about the first ever mass introduction of display-embedded biometry on a popular phone, look no further than its latest filing with the US Patent Office below. In it, Samsung details an ultrasonic fingerprint scanner and elaborates how this type of sensor can also be moved to the side of a phone, not only placed under the cover glass. By chance, that's exactly the speculation about the eventual basic S10 Lite with a flat display - that it will have a side-mounted reader.
Mr Kuo argues that Samsung will heavily promote the unorthodox readers, especially since they will be a feature that Apple won't have on its 2018 iPhone models. If implemented successfully, the in-display and side scanners will be one of the defining characteristics of the handsets, as, let's face it (pun intended), 3D face-scanning is neither more convenient, nor more secure in practical terms than the good ol' finger tap in the middle of the screen to unlock your phone in a jiffy while holding the grocery bag with the other hand. Here's Samsung's fresh patent schematic on how the under-glass fingerprint reader operates.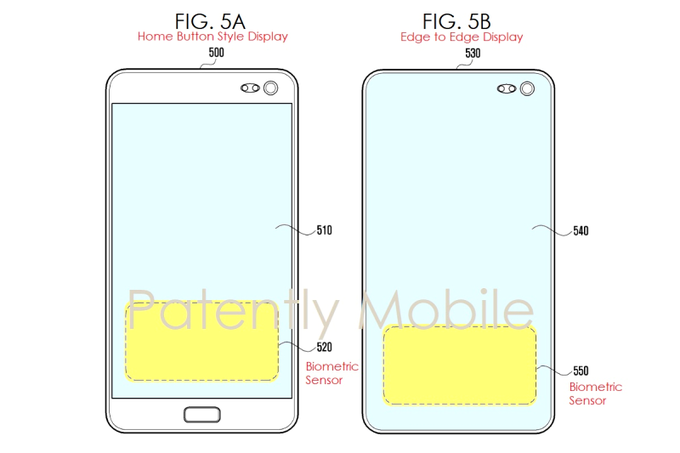 Sound-emitting display
Want to push screen ratio further without resorting to a notch? Get rid of the earpiece
An interesting sound-emitting display concept by Samsung got our attention when showcased at the Society of Information Displays (SID) 2018 expo last month. As you can see in the video above, the Samsung rep explains how a panel using vibration and bone conduction may negate the need for an earpiece, helping extend the screen all the way from top to bottom. They had a "Sound on Display" tech prototype at hand, running in what seems to be a Galaxy S9+ casing, and the presenter joked that we are actually looking at the Galaxy S10 display here.
The transmission bandwidth is said to be in the 100 ~ 8000 Hz range, and, thanks to the very fine vibrations, you would only hear the sound if you put your ear to a fairly wide area at the top half of the screen, denoted with a circular symbol here. In fact, Vivo already announced one phone with such technology, the edge-to-edge
NEX
, which might be a harbinger of things to come next year. Vivo calls this Screen SoundCasting, and says that "
compared to other audio solutions for bezel-less smartphones, it conserves power, reduces sound leakage, and optimizes low to high pitch sound for a better and more balanced audio experience
."

Apparently, both Samsung and LG are ready to commercialize their sound-emitting OLED displays in flagship phones next year, and insiders pegged the exact size of Samsung's screen in question - 6.2 inches. Coincidentally, this is the size of the S9+ display, so we keep our hopes high that Samsung could introduce an edge-to-edge Galaxy S10 with the panel of the S9+, but an even more compact body.
Triple camera
Standard, wide-angle and telephoto lens will be a winning combo
Samsung is reportedly going to equip the Galaxy S10+ with a triple camera kit not unlike the one on the
P20 Pro
, as Apple is expected to launch an iPhone with lens triplets in 2019, too. The rumors that Apple's 2018 iPhone X Plus will sport a tri-lens camera on the back may have been premature, though, as Largan Precision, one of Apple's camera element suppliers, revealed that the multi-lens boom is not happening en masse before next year.
Tucked in its reports about a new 7-layer plastic lens invention for handsets, was the tip that many phones with three or more cameras on the back, as well as true optical zoom, are in the pipe for 2019, when Largan will be able to mass produce said modules. If the Galaxy S10 indeed ships with a tri-camera setup, it's not out of the question that Apple could follow suit with its most expensive iPhone models as well. Those two usually manage to produce some of the best mobile photography results, so we can't wait to hear what they have in store for us.
Dual selfie camera
For better portrait selfies, but also 3D face-scanning
Following in the footsteps of the latest Chinese flagships and possible the upcoming Google Pixel 3, Samsung's Galaxy S10+ may be employing a new dual-camera system up front. Significant improvements to the bokeh effect are to be expected alongside the traditional jump in overall image quality. It is worth, noting, however, that this dual-camera offering will be exclusive to the Galaxy S10+, with the other two rumored models settling for a more tradition single-lens offering, much like this year's Galaxy S9 line.
In addition to the selfie cameras, today's report also reconfirms recent information that claimed the largest model would boast a triple-camera layout on the rear. This setup will include a main variable aperture sensor, much like this year's flagships, alongside a super wide-angle camera and a telephoto lens. Much like the dual setup up front, though, the rear triple-camera layout will be exclusive to the Galaxy S10+. This means that those who purchase either of the other two smartphones will have to make do without a telephoto lens.
5G connectivity
Not a brainer
Recently, Qualcomm announced the world's first 7nm chipset, its next-gen
X24
wireless modem that will be capable of pre-5G 2Gbps download speeds. This one, however, may be tacked onto stopgap chipsets before
Snapdragon 855
with the
X50
modem hits the tape, and that's the one we are expecting on the S10. On a separate note, a press release about Samsung's new factory said that it will be the go-to foundry for Qualcomm's 5G Snapdragon chipsets that will be soldered en masse early next year.
This could mean that the first 855 client might very well be Samsung with the S10 puppy, and a 5G modem should bridge the speed gap from the X24 nicely. Qualcomm is still betting on Samsung to make the next-gen Snapdragons, as its EUV lithography is much more advanced than the end-of-life optical one that TSMC will use for Apple's eventual
7nm A12
chipset in this year's iPhones. As per RK Chunduru, SVP of Qualcomm's supply chain and procurement:

We are excited to lead the 5G mobile industry together with Samsung. Using 7nm LPP EUV, our new generation of Snapdragon 5G mobile chipsets will take advantage of the process improvements and advanced chip design to improve the user experience of future devices.
Wide-angle lens
Landscapes for everyone!
For the S10 line, Samsung will reportedly stick with a main 12-megapixel camera that will retain the same
variable-aperture characteristics
that made a cameo on the Galaxy S9 line earlier this year, toggling f/1.5 or f/2.4 apertures depending on the lighting conditions. The telephoto lens that Samsung has made use of in recent years is expected to be featured on the triple-camera S10+ as a 13-megapixel sensor that boasts an aperture of f/2.4. It's unclear what level of optical zoom the camera will be capable of achieving, but if Samsung wants to remain competitive we'd bet on 3x magnification.
Now, in addition to those sensors that we know and love, it's claimed that Samsung may take a leaf out of LG's book by coupling the main sensor with a new 16-megapixel wide-angle camera (123 °) that itself boasts a f/1.9 aperture. As is common with these sensors, the report confirms Samsung doesn't plan to include support for autofocus or optical image stabilization with this sensor. The kicker is that the wide-angle lens may also trickle down to the smaller S10 models, while the S10+ might be one of the few with both telephoto and wide-angle camera which would significantly raise its photography street cred.
Powerful next-gen 7nm chipsets
A new era in mobile computing comes with die shrinks
Besides the 7nm
Snapdragon 855
, Samsung will use its next high-end processor for the S10, which goes by the name Exynos 9820. In terms of the CPU, it looks set to make use of a total of eight cores as part of the 2+2+4 DynamIQ architecture. This layout consists of two Exynos M4 big cores, which are rumored to reach clock speeds of over 3.3GHz, and two Cortex-A75 or A76 medium cores. Additionally, four slower Cortex-A55 little cores will complete the setup.
Coupled with all of this will also be the new GPU, which is set to be the Mali-G76 MP18. Much like the Mali-G72 it succeeds, the newer offering includes 18 cores. However, proving to be a big step forward, the GPU will be the first ARM-made one manufactured on the 7nm processor, which could potentially mean a significant boost in performance and a much higher level of efficiency.
As to what will be the advantages of the 7nm LPP EUV process before the current 10nm LPP that is used for Snapdragon 845 and Exynos 9810 in Galaxy S9? Well, how about "
up to a 40 percent increase in area efficiency with 10 percent higher performance, or up to 35 percent lower power consumption
," take your pick.
3D face-recognition module
Why leave Apple have all the Memoji fun
Apple's TrueDepth camera kit that presaged the flood of notch-y phones in the first half of the year, is no regular face recognition hardware, like the
Intelligent Scan
we have on Samsung's flagships. It doesn't simply use front cameras coupled with an IR emitter at best, and applying software trickery for storing and reading your face afterward. In fact, the extra parts that make Face ID and Animoji on the iPhone X possible include a dot projector that throws in no less than 30 000 near-infrared beams at your face projecting a pattern onto it, plus an infrared camera that collects and infers the depth perception by calculating where the lines break via an algorithm.
This whole system has already been copied by phones like the
Oppo Find X
or the
Xiaomi Mi 8
Edition already, while that last one also sports in-display finger scanner. That is exactly the setup that Samsung may be adding for the Galaxy S10 to make it stand out as an anniversary member of the Galaxy S-line. The 3D-sensing camera kit is purportedly developed in partnership with the Israelis from Mantis Vision, and aided by local camera component maker Woodgate.
If you are curious what Mantis Vision will bring to the table that Apple's TrueDepth camera might not, look no further than the video below, and dream for some of these options to make their way into the Galaxy S10 and S10+. Given that only the largest and most expensive
S10+
model is tipped to have two front cameras, we'd wager to guess that it will be the one outfitted with 3D-sensing, while the others may have to make do with Samsung's current face and iris scanning tech.